Our Mission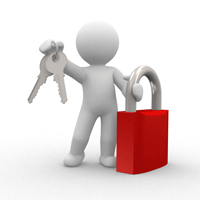 At Create a Key, we believe your online experience can be easier, faster and safer. We live in a world where hackers, crackers, and crooks are working 24/7 to steal your information. Let us help you work hard in stopping their attempts at getting near your private information. Think about it, as a society, we are creating more and more passwords everyday for email, online banking social networking, apps, etc. With all the passwords that you use, why not let us help you make them more efficient and complex?
Once you create your password(s) with us, you can save it locally, or have it sent to your email for later review. Create a Key, designed by web enthusiasts and skilled application developers, has been developed to make your online experience safer and more secure. So get started now in making your online presence more secure.
Your Privacy is Important to Us
The passwords you create are never logged or saved on this server and no cookies are used.
Behind the Scenes
This password generator is easily accessible, and immediately generates a secure password based on your input.
How It Works
Create A Key is built with Javascript / jQuery and uses our customized routines to generate complex and safe passwords.
Cost? Fees?
All services we provide at Create a Key are 100% free. We believe that a safe online environment shouldn't be something you have to pay for.